Jazz Notes – Nov/Dec
We Love You Madly! 7th Annual Ellington Awards
David & Kate Hartzell, and Chris Tomkins were honored Monday, August 22nd at the Jazz Center in recognition of their generousand long standing support of Kuumbwa Jazz. David and Kate sponsor the ongoing and very successful ½ Price Student Discount ticket program.This program makes it possible for students of all ages to attend concerts year round becoming part of our growing music community of aficionados.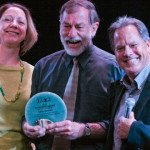 Most of you know Chris Tomkins very well – Chris is the first person to greet you when you walk into the jazz center; he possesses a rare blend of professional and personable coolness fitting for our jazz fans. Chris our man at the front door has been volunteering his services for over 30 years!  We send them a heartfelt round of applause for making our experiences both today and into the future memorable! Thank you!
Click here to view photos of the award winners.
Kuumbwa Profile: Erik & Judy Johnson
 Erik & Judy Johnson   "It's impossible to pick a favorite concert…"
Erik & Judy Johnson of Erik's DeliCafe have been unflagging in their support of Kuumbwa over the past three decades. A local success story that originated out of a 600 square foot location in Scott's Valley, their business has grown to 28 locations in Santa Cruz County, and beyond. Along with that growth has been a conscious giving back to the community. For Kuumbwa, they regularly sponsor concerts; support jazz education for local youth through Jazz Camp and the High School Honors Band; and since its inauguration in 2002, have been a key supporter of Kuumbwa's Wine Tasting/Jazz Auction, featuring generous wine offerings from Erik's private collection, including a hosted dinner at their residence as one of the auction offerings. "It's a fun way to do a fundraiser," says Erik, "and it's been very successful."
Erik Johnson had been working in real estate after moving to the Santa Cruz area in 1971, but he really wanted to run his own business. With help from his family, and Judy, he opened the first Erik's DeliCafe in late 1973. The beginnings of the business also marked the start of Erik and Judy's relationship. Married since 1978, they have a son, Brian, 30, and a daughter, Katie, 26. "When they were young, we took our children to Kuumbwa," says Judy, who believes it's important to expose young people to jazz, especially if jazz is to attract new audiences. She and Erik enjoy a wide variety of music, but she credits her father for her love of jazz. Her brother Don – himself an avid jazz fan, and a good friend of Erik's since high school – introduced them to Kuumbwa in the early '80s. Soon after, they became members of Kuumbwa Jazz.
By the early '90s, the Johnsons were sponsoring Kuumbwa concerts through Erik's DeliCafe. To date, they've sponsored 19 artists over the past two decades, including such greats as Mose Allison, Michael Brecker, Betty Carter, Joshua Redman, and Toots Thielemanns. "It's amazing that we live 5 minutes away from this 'jewel' in the community that has these great musicians every week," says Erik. "And the staff, Tim Jackson, Bobbi Todaro, Cheryl Simons, Chris Tomkins, and everyone, have been just great. I don't know where else in this area you can go and have great food and great music. It really says something about a place that has so many long-time volunteers." Asked to pick a favorite concert Erik laughs, "It's impossible to pick a favorite concert, because every time we go we say, 'that's the best concert we've ever seen!'" Judy agrees, but admits she does favor the saxophonists, and sums up her thoughts about Kuumbwa this way: "I know it's been said before, but the intimacy of the space is so special. To be able to hear these amazing musicians, up close, in such a small venue – it's the kind of experience that warms your heart and soothes your soul." –Kurt Brinkmeyer