Laurie Lewis Interview
Laurie Lewis will be performing at Kuumbwa with "Hills to Hollers" on May 21.
Bluegrass legend Laurie Lewis, Cultural Heritage Choir leader Linda Tillery and Grammy nominated singer/songwriter Barbara Higbie have created a vocal trio that taps into the most primordial roots of the American musical experience. "Hills to Hollers" explores American music from the hills of bluegrass and country, to the work songs and hollers of the African-American tradition. Performing with soulful abandon, three-part vocals, and champion musicianship, these women take it to the mat.
Laurie Lewis' new album Skippin' and Flyin' is a tribute to bluegrass legend Bill Monroe.  It turns out that Lewis' relationship with Monroe got its start backstage at Kuumbwa in the early 1980s.  Laurie took a moment to talk about that meeting and the upcoming "Hills to Hollers" show.  John Sandidge, of Snazzy Productions – and producer of that Bill Monroe show – also recounted for us his recollections of when Monroe graced the Kuumbwa stage.
Conducted by Bennett Jackson
Laurie Lewis Interview
Can you recall the details of your band opening up for, and you meeting Bill Monroe at Kuumbwa?
I had met Bill previously, but I don't think he would have remembered me before we met at Kuumbwa.  His bus driver at the time, Roland White, was a fan of my interpretation of a song written by Bill's daughter, Melissa Monroe.  Roland made sure that Bill came into [Kuumbwa] and listened to me sing that song.  As you know, the back room is pretty tiny, and there wasn't room in there for all the Blue Grass Boys and my 5-piece band.  When we got off stage, we needed to pack up as quickly as possible to make room for Bill's band.  Bill was seated in a chair, and hoisted my guitar case up onto his lap and opened it or me, so that I could pack up.  He said, "I've never done this for anyone before." and then he told me, "You're better than you think you are."
Did Monroe's playing influence how you approached your music early in your career?
Most definitely.  I was given a copy of "The Great Bill Monroe," an album of some of his early Columbia recordings, and was totally smitten by Chubby Wise's fiddling and also by the raw, emotive singing on that collection.  Bill's mandolin playing may not have influenced me personally too much, but his entire band's sound certainly did.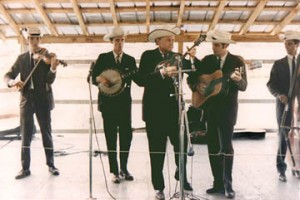 Your latest album, Skippin' and Flyin' is a tribute to Monroe.  Was there a moment when you realized you wanted to pay homage to him in an album?
I think that it occurred to me to do this when I started hearing people re-recording Bill's repertoire for the centennial of his birth [in 2011]. I thought about the huge impact his music has had on my music, and I wanted to express that in a personal way…not just by dong a bunch of his songs over again, but by exploring the ways he taught me (unknown to him) to take material from various sources and personalize it.
Will you be doing any tunes from Skippin' and Flyin in the "Hills to Hollers" show?
Yes, we will be playing at least one song from that album: "The Pharaoh's Daughter."  It is about the woman who risked going against her father's edict to save Moses from death.
How do you, Linda Tillery and Barbara Higbie decide on what material to include in the "Hills to Hollers" repertoire?
We just get together and try it out, and see what fits us. If any of the three of us vetoes any particular suggestion, we move on, because there is so much material to draw from we have the luxury of making sure we are all on the same page. We like the material that seems to be from that time in American history when rural people, black and white, played and sang a similar repertoire. We use that as a jumping-off point for forays into all sorts of collaborations.
——————————————————————————————
John Sandidge on Bill Monroe playing Kuumbwa
Somewhere between 1980 and '83, early on in Snazzy Production's career, we brought Bill Monroe [to Santa Cruz] twice: once to the Crow's Nest and once to Kuumbwa.  The Kuumbwa show really stands out in my mind, though.  At that time I was not very good about knowing what was going on in this business and I got a call [from Monroe's management] that asked what time I was picking up Bill from the airport, and I said "well, I'm not…" and they told me I'd signed a contract saying that I would!  I looked it up…and I had!  At that time I owned an old Cadillac limo from the mid-to-late sixties, so I fired up the Caddy and went over the hill and picked up Bill Monroe, all of the Blue Grass Boys, Bill's new wife, plus all their instruments and packed them into this limo and went back over Highway 17.
When we hit the summit I turned on the radio to KPIG and they were playing a Bill Monroe tune.  Bill asked "How did you do that?!"  I joked and said "it's new-fangled radio, I could do that anytime" and Bill says: "Well, have them play another one."  So we get to Kuumbwa, and Bill had a reputation of being a pretty grumpy guy, but he had his new wife with him and he was just in a great mood and he was hanging out with some kids and the younger musicians while he was there.  We didn't have a hugely [financially] successful show, but it was just a great experience…to have somebody of that caliber come to town…a guy who invented a style of American music that will last forever.