Jazz Notes May/June 2013
JAZZ NOTES MAY/JUNE 2013
Register Now for Jazz Camp!
Registration is underway for Kuumbwa's Annual Summer Jazz Camp, June 17 – 27 at Cabrillo College! Camp is open to students entering grades 8-12 in the fall. Students will meet new friends while focusing on live performance, basic improvisation, theory, soloing concepts and phrasing along with jazz history and appreciation. The Camp is directed by Santa Cruz County music educators, Steve Wilson and Terrel Eaton. The camp's grand finale concert performance begins at 6:30 p.m., Thursday, June 27 on the famous Kuumbwa Jazz stage! Camp Tuition: $275, A few need-based scholarships are available. We are committed to providing deserving young musicians the opportunity to pursue their passion for music in an intensive jazz instruction environment, regardless of financial resources. Register online at: kuumbwajazz.org/jazzcamp.htm or call (831) 427-2227. Scholarships are made possible by the Jazz Camp Scholarship Fund. "My favorite part of camp is getting together with all the musicians in town and jamming jazz." –Austin Corona, guitarist, grade 12.
After Hours Nights
We are excited to announce that on select concert nights, Kuumbwa will remain open for drinks and socializing after the final notes of music are played. Join us and hang out after these shows to relax and grab another drink from the bar, which now features numerous additions to our beer selection, as well as wines on tap. Enjoy the after hours vibe and perhaps even mingle with the musicians you just witnessed on stage. Check our calendar for shows marked *bar open late.
Kuumbwa Profile: Keith Wieland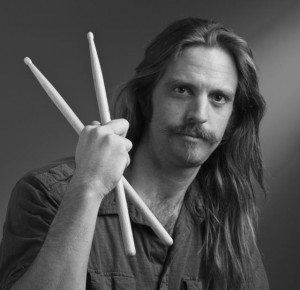 "The music at Kuumbwa is always amazing."
At the very first concert Keith Wieland experienced at Kuumbwa, he was performing in it – as a student playing drums onstage with the UCSC Big Band; his mother, Bernadette, was in the audience. The next time, he was in the audience with a friend, listening in awe to guitarist Stanley Jordan. According to Keith, it was at his mother's urging that he became a Kuumbwa volunteer, "She'd say, 'I have a really good feeling about that place; you should volunteer,' and she was right." A little over two years ago, Wieland started helping out in the Kuumbwa Jazz office, answering phones, inputting data, and running errands around town. "Whatever they need done," says the avuncular 29-year-old, "I'm there to take care of it. It's amazing to see how much work goes into running the place." Born and raised in Mountain View, Keith grew up loving music. His first instrument, at age 11, was the clarinet. Inspired by a friend who played the drums, he switched to drums in junior high school. He went on to play in the school big bands during his junior high and high school years. "We had a really great big band program. At the time, my main drumming influences were Gene Krupa and Buddy Rich, the classic big band players." He also attended the Stanford Jazz Workshop and studied with ace drummer Tootie Heath, of Heath Brothers fame. Keith moved to Santa Cruz in 2002 to attend UCSC, majoring in math with a minor in jazz studies. Since graduating, he has kept busy playing in a number of bands and, additionally, working as a substitute teacher in local high schools teaching algebra and geometry. Wieland is thankful for the school jazz programs that encouraged him to develop as a musician, and says, "If you grow up playing jazz, you've got the fundamentals to play any style of music." He has toured professionally playing rock, blues, funk, and hip-hop. "Even on the rock gigs, I like to throw in some jazz influences when I can, like quoting some of Krupa's Sing Sing Sing solo for a few bars during a drum feature." Not surprisingly, Keith cites concerts by drummer/bandleaders Dennis Chambers, Dave Weckl, and jazz legend Jimmy Cobb, as being among his favorite Kuumbwa shows. "The music at Kuumbwa is always amazing. When I first volunteered, I saw Linda Tillery's band, which had great vocal and percussion work. I remember the audience was really excited, shouting encouragement to the band. It was great." In regards to his time as a volunteer, Keith says, "I'm proud to be a volunteer, Kuumbwa is the 'jazz' in my life. I feel like I'm part of it now. Whenever I mention Kuumbwa to anyone around town their eyes light up. Everyone has great things to say about the place. As a venue, the whole place is such an achievement. It's unique, it's intimate, and has great sound. I look forward to coming here." – Kurt Brinkmeyer