Music Review
On a Move Toward Pop, and Denser Rhythms
Etienne Charles's 'Creole Soul' Shifts Away From Mainstream
Yana Paskova for The New York Times
Etienne Charles, center, joined by Victor Provost, left, and Jacques Schwartz-Bart, celebrating a recording release at Le Poisson Rouge.
Published: July 24, 2013
You may have heard that it's hard for a jazz musician to find respect beyond what seems like a fixed number of close followers and students. Musicians can ignore that situation, or respond to it. Etienne Charles's new recording, "Creole Soul," on his label Culture Shock Music, is a smart response.
He's a trumpeter from Trinidad who studied music at Florida State University and Juilliard, and his three previous albums have moved from informed and flexible post-'80s mainstream jazz, connected to the work of Wynton Marsalis and Marcus Roberts, toward Antillean rhythm and song, especially calypso. But his music is also moving from study toward entertainment, and he's learned and evolved a lot while still young. On Tuesday night, for his recording-release show at Le Poisson Rouge, he played the first notes of the set at the of age of 29 and the last at 30.
There's not a lot of furrowed-brow music on "Creole Soul." It adds denser rhythm and slicker pop dynamics; there are fewer moments concerned with showing off jazz-school chops. It's easy to listen to. It could and should extend his appeal to listeners who like R&B or various adult-contemporary offshoots of jazz. But it's also intellectually sound, going deeper into Mr. Charles's basic interest, which is the affinities between Caribbean music and music from the American South, New Orleans jazz in particular. It doesn't feel too academic or too grasping, overscripted or shallow. He's got it about as right as he can.
Tuesday's show, with a full house, reconfirmed Mr. Charles's drive toward pop, and toward more rhythm. His band included Victor Provost, a serious jazz improviser, on the steel pan; the trap-set drummer John Davis; and two more percussionists, Daniel Sadownick and D'Achee, or three in the valuable moments when Mr. Charles put down his trumpet and joined them. Here was a version of Bob Marley's "Turn Your Lights Down Low," slow and low impact, with strings of easygoing solos and a singalong; a version of the reggae standard "You Don't Love Me (No No No)," originally adapted from a Bo Diddley song; a tune written for his parents called "The Folks" that combined romantic jazz-ballad tones with a persistent Caribbean beat landing on the two and four; and a blowout jam at the end, "Doin' the Thing," which could be described either as jazz explicitly for dancing or calypso with "I Got Rhythm" changes and tenacious improvising.
Some of these musicians have played with Mr. Charles for a while, some not. Some aren't on the record itself. (The pianist Taylor Eigsti filled in for Kris Bowers, and Mr. Davis for Obed Calvaire; the tenor saxophonist Jacques Schwartz-Bart and the excellent, strong-toned bassist Ben Williams were on the album and at the show as well.) And so, while everyone played well — especially Mr. Charles, precise in tone, highly controlled in phrasing — this wasn't necessarily a band whose internal chemistry had its own life.
But that might not matter. Mr. Charles seems legitimately committed to finding listeners who don't necessarily need that kind of subtlety and intuition. Here, the songs and the persistence of the groove matter more. The trade-off is less mystery, more immediate pleasure. The only thing needed now is for the band go deeper into those pleasure spots, the rhythm and the songs and the riffs, to make the music more explosive, because at times one got the sense of a music that looks better on paper — or sounds better on record — than it does up close and in real time.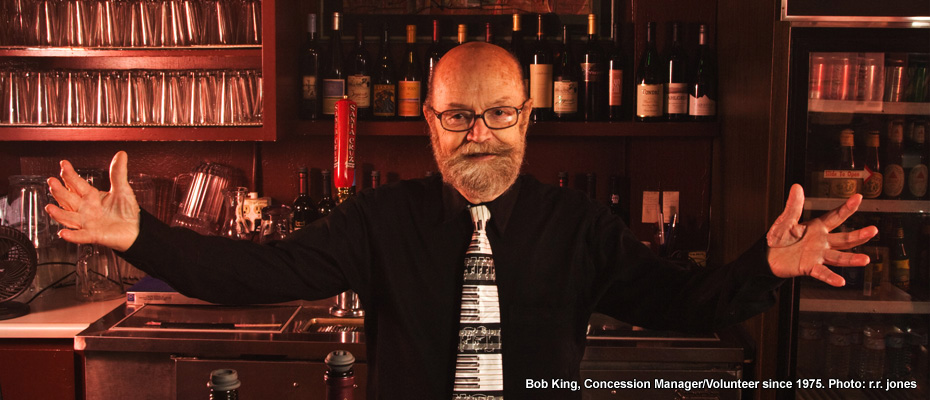 WINE AND BEERS ON TAP ARE ECONOMICAL AND ECO-FRIENDLY!
Check out our new and improved bar menu including local wines and beer on tap! Go green – order from the tap!
Coppola Rossa and Bianco
Alfaro Family Vineyards, "Lindsey Paige" Pinot Noir 2011
Alfaro Family Vineyards, "Lindsey Paige" Chardonnay 2011
Santa Cruz Ale Works Hefeweizen
Santa Cruz Mountain Brewery IPA
Seabright Amber
Guinness
CLICK HERE FOR FULL BEVERAGE MENU
Jazz Kiln – Summer 2013
Back by popular demand! Kuumbwa Jazz is pleased to offer a second run of the six week workshop series on jazz improvisation. The Jazz Kiln is Kuumbwa's newest education program and is designed to offer a safe place for musicians of all ages to explore their musical boundaries. These workshops will be directed by noted jazz educator, composer and pianist Eddie Mendenhall.  Eddie believes that you can learn the jazz language by studying the history of jazz (listen!) and pursuing an enjoyable dedication to your instrument.  Each student may have a different path to proficiency on the instrument, but improvising is always about your ears and how you communicate your instincts, feelings, and meaning in performance.  These workshops are intended to help music students find their jazz voice, expressing themselves with confidence through improvisation and understanding their role within an ensemble.
Classes are held on the Kuumbwa stage on Tuesday nights July 9th – August 20th: no class on July 30th. Tuition for the series is $200, advanced enrollment only. This course is focused on instrumentalists and we are not accepting vocalists at this time, sorry for the inconvenience. Click Here for more information.
The Cookers: Billy Harper (tenor saxophone), Eddie Henderson (trumpet), George Cables (piano), Cecil McBee (bass), Billy Hart (drums), David Weiss (trumpet), and Craig Handy (saxophone)
Monday, August 12 at 7:00 and 9:00 pm
INTERNATIONAL JAZZ DAY: CELEBRATE WITH AN ENCORE PERFORMANCE!
Tuesday, April 30, 7:00 and 9:00 PM
Monterey Jazz Festival on Tour feat. Dee Dee Bridgewater, Christian McBride, Benny Green, Lewis Nash, Chris Potter & Ambrose Akinmusire
After opening their nation-wide tour with two sold-out performances at Kuumbwa Jazz, this super group of jazz musicians, return to close out their spectacular tour, complete with new material developed on the road. Don't miss this encore performance of the 55th anniversary of the Monterey Jazz Festival featuring sensational vocalist Dee Dee Bridgewater, saxophonist Chris Potter, trumpeter Ambrose Akinmusire, pianist Benny Green, bassist/musical director Christian McBride, and drummer Lewis Nash. Says Ms. Bridgewater, "All kinds of crazy things happen here…it's Kuumbwa."