Kuumbwa's Annual Benefit Auction a Smashing Success
Thank you Miner Family Vineyards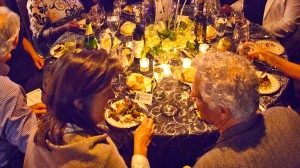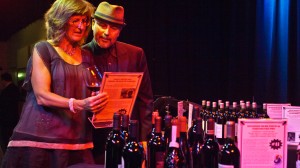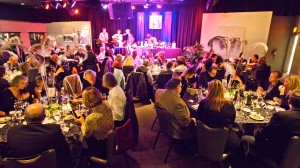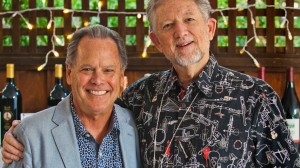 On October 25, 2014, the jazz center was transformed into a supper club reminiscent of Duke Ellington's Big Band Swing Era. As attendees entered the tented courtyard, Bill Callahan (Bill the Oysterman) provided an endless supply of fresh oysters paired with Nicolas Feuillatte Champagne. Guests then moved on to wine tasting featuring fine reds from the private cellar of Erik and Judy Johnson (of Erik's DeliCafé fame); Miner Family Winery's 2009 "The Oracle"; and Ridge Vineyard's 2011 Estate Cabernet Sauvignon.
Guests mingled while surveying silent auction items, such as rare California reds, golf packages, winery tours, and jewelry and artwork from local artists. As guests filtered into the A Train – aka Kuumbwa Jazz Center – live, music was provided by members of the Kuumbwa Jazz Honor Band. Chef Cheryl Simons began the meal with a salad of oak leaf lettuce, pear, blue cheese and walnut relish. The entreé was a cooked-to-perfection peppercorn crusted beef tenderloin served with horseradish cream, potato goat cheese soufflé with wild mushrooms, spinach with sorrel and mind. Coffee and dessert of frozen chocolate mousse with pistachios and cherry saucewas served as the party moved onto the grand finale of the evening – the "live auction" with MC Romney Dunbar.
Auctioneer Romney Dunbar got the crowd cheering at the chance to bid on unique and superb rare wines and packages such as VIP passes and accommodations to the 2015 Jazz å Vienne Festival in Vienne, France. The most anticipated item of the evening was a one-of-a-kind dinner with very special rare wines from the private cellar of Richard Ow, including a 1999 Screaming Eagle Cabernet (valued at $2,500) and a 2003 Shafer Hillside Select Cabernet (rated 100 from Robert Parker) paired with a gourmet dinner by Chef Damani Thomas of Oswald Restaurant. Other hot items included VIP passes and accommodations to the Savannah Music Festival in Savannah, Georgia, a Gumbo Party for 50 guests, a baker's dozen of fine wines, and a gourmet dinner with fine wines at the home of Erik and Judy Johnson. At times the bidding reached passionate levels as Kuumbwa supporters raised their paddles attempting to win their favorite item… knowing that their donations help propel the nonprofit jazz and education venue into its 40th year!
(photo captions, L to R: dinner view; Bunny Tavares, Deidre Hamilton, Laura Sutherland; Dillon Baiocchi; Christine & Jesse Nickell; dining view; Tim Jackson, Erik Johnson; kitchen crew; Lori Chavez, Lynn Howerton; silent auction)
Original artwork by Joe Hyatt