Your Gifts at Work
Together We're Bringing More Music to our Community!
Jazz Camp
Our 2013 annual Summer Jazz Camp, directed by Steve Wilson and Terrel Eaton, was held on the campus of Cabrillo College where 61 happy campers, ages 12 – 18, played and listened to jazz for nine days. These aspiring young musicians came from 27 public, charter and private schools throughout Santa Cruz County and beyond. Their free concert on the Kuumbwa Jazz Center stage was filled with an audience of family, friends and community supporters of music education.
The Kuumbwa Jazz Honor Band is an all-star ensemble of high school musicians. Weekly rehearsals provide the structure to study complex jazz theory, improvisation and arranging. These talented students also learn essential life skills such as collaboration, communication, cooperation and critical thinking.  This working band often performs at community benefits, festivals and special events throughout the community. In the words of a recent honor band graduate:
 "I love this band. This is my third year in the band, and I honestly cannot get enough of it. The best moments in music … in my life have been because of this band, and it brings great joy to me to participate. I have learned so many valuable skills in music theory, music appreciation, and music performance that will help me succeed greatly in the future, as well as help me to spread the amazing, florid influence of jazz throughout the country and the world. Thank you for an amazing three years." ~Peter Tarantino, freshman Willamette University
The Jazz Kiln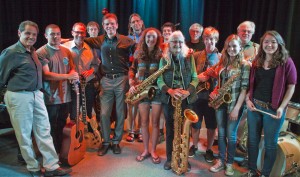 Our newest program, The Jazz Kiln, is a six-week workshop directed by noted jazz educator, composer and pianist Eddie Mendenhall. Open to all ages, each workshop provides a unique, tailored approach to help students become better improvisers. Improvising is about listening and learning to communicate one's instincts, feelings and interpretation of musical meaning through performance.  These limited enrollment workshops help music students find their own jazz voice, while understanding their role within an ensemble.
Artists In The Schools 
Our Artist in the Schools program brings professional jazz musicians/educators into Santa Cruz County schools in an ongoing effort to support and enrich local music programs, many of which have suffered severe cutbacks in recent years. Kuumbwa is pleased to partner with cellist, composer and globetrotting clinician, Dr. Renata Bratt, as our Artist in Residence. Renata's knowledge and enthusiasm has inspired many young musicians in the classroom and her encouragement has resulted in many students continuing their music studies on their own. In 2013 Dr. Renata Bratt made ten visits to three schools, teaching nearly 400 students.