Summer Jazz Camp
2013 Camp Information

Summer Jazz Camp is an annual day camp for students 12 – 18 years old who are interested in learning jazz, improvisation and jazz appreciation. Students receive both one to one and group instruction.  The camp focuses on live performance, basic improvisation, theory, soloing concepts and phrasing along with jazz history and appreciation.
Camp Location: Cabrillo College, 6500 Soquel Dr., Aptos – VAPA Complex
Dates: Monday, June 17 – Thursday, June 27
Times: Grades entering 8 – 9 attend from 9am – 12pm; Grades entering 10 – 12 attend from 11am – 2pm
Camp Concert: Thursday, June 27, 6:30 pm at Kuumbwa Jazz Center
Required Skills: Students must know at least 3 major scales and have experience with instrument.
Drummers must know standard jazz rhythms.
Jazz Camp Vocal Ensemble: Grades entering 10-12 only. Vocalist encouraged to enroll with referral from current Choir Director. Deadline to enroll for the Vocal Ensemble: Monday, June 3, 2013.

Tuition: $275 – Register Here.
Scholarship Information: Limited need-based scholarships are available, Apply Here. Kuumbwa is committed to providing deserving young musicians the opportunity to pursue their passion for music in an intensive jazz instruction environment, regardless of financial resources. However, please note that we rarely grants full scholarships. Deadline for Scholarship Applications: June 3, 2013.
Sign up for this year's Jazz Camp and get a free pass to:
Don't miss this rare opportunity to attend Sound Check: Clinic for Campers with Benny Green. This is sure to be an entertaining and informative way to kick off our summer jazz camp and is free for all 2013 Kuumbwa campers! The band will give the inside scoop on playing on stage, making music with friends and keeping it real all the time. Not only will this be a fun and exciting addition to our camp, but is sure to inspire young musicians to find and hold on to their love of music!
Sound Check: Clinic for Campers with Benny Green
Tuesday, June 25 at 4pm, doors at 3:30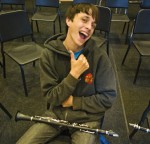 Kuumbwa Jazz Center, 320-2 Cedar Street, SC
Not only do Jazz Campers receive free tickets to select Kuumbwa presented concerts all summer long, but they also get invited to special education events when available. This year's group will participate in this clinic AND be able to see the Benny Green Trio live on the Kuumbwa stage!
"Benny's a beautiful player, very accomplished, broad & deep. He's also a sweet person & powerful personality. I think the campers will love him!" ~Marshall Otwell, Pianist and Kuumbwa Board Member
About the Camp
Our 2012 annual summer Jazz Camp was held from June 18 – 28 on the campus of Cabrillo College. The 60 participants, grades 8-12, represent 20 public, charter, and private schools throughout Santa Cruz County. These dedicated young musicians studied and listened to jazz for nine days under the direction of Santa Cruz County music educators and professional musicians, Steve Wilson and Terrel Eaton. Assisting were rhythm coaches: Bill Bosch, Robert Mahoney, Zack Olsen, Gino Raugi, and vocal coach India Velasquez. Our interns were Kuumbwa Honor Band Alums, Dillon Baiocchi, Barney Greer and Aron Caceres. The wrap up took place on the Kuumbwa Jazz Center stage featuring five ensembles accompanied by a cheering standing room only audience of family, friends, and community supporters. Thank you to one and all for making this year's event the best ever! "Jazz is definitely a genre of music that fascinates me. It really makes you think, and knowing that people can make up things on the spot, really just blows my mind." ~ anonymous camper, 10th grade, Soquel High School